What are Push-To-Talk (PTT) Handsets and How Do They Work?
Push-To-Talk (PTT) Handsets are an essential component in secure environments. Modern phones have evolved into small computers (with software). Skilled attackers can reprogram these phones to eavesdrop on conversations even when the phone is 'on-hook' by activating the microphone on the handset.
Recognizing these threats, the NTSWG, formerly known as the Telecommunications Security Group (TSG) recommends push-to-talk handsets in all secure envoriments and they're required in secure government facilities.
A Push-To-Talk handset physically breaks the circuit to the transmitter (microphone) unless the button in the handset is pressed. Physically breaking the circuit guarantees the microphone can't transmit unless the button is pressed. This increases the difficulty of an eavesdropping attack since rogue software or firmware patches can't change the physical circuit.
How Do Push-To-Talk Handsets Work?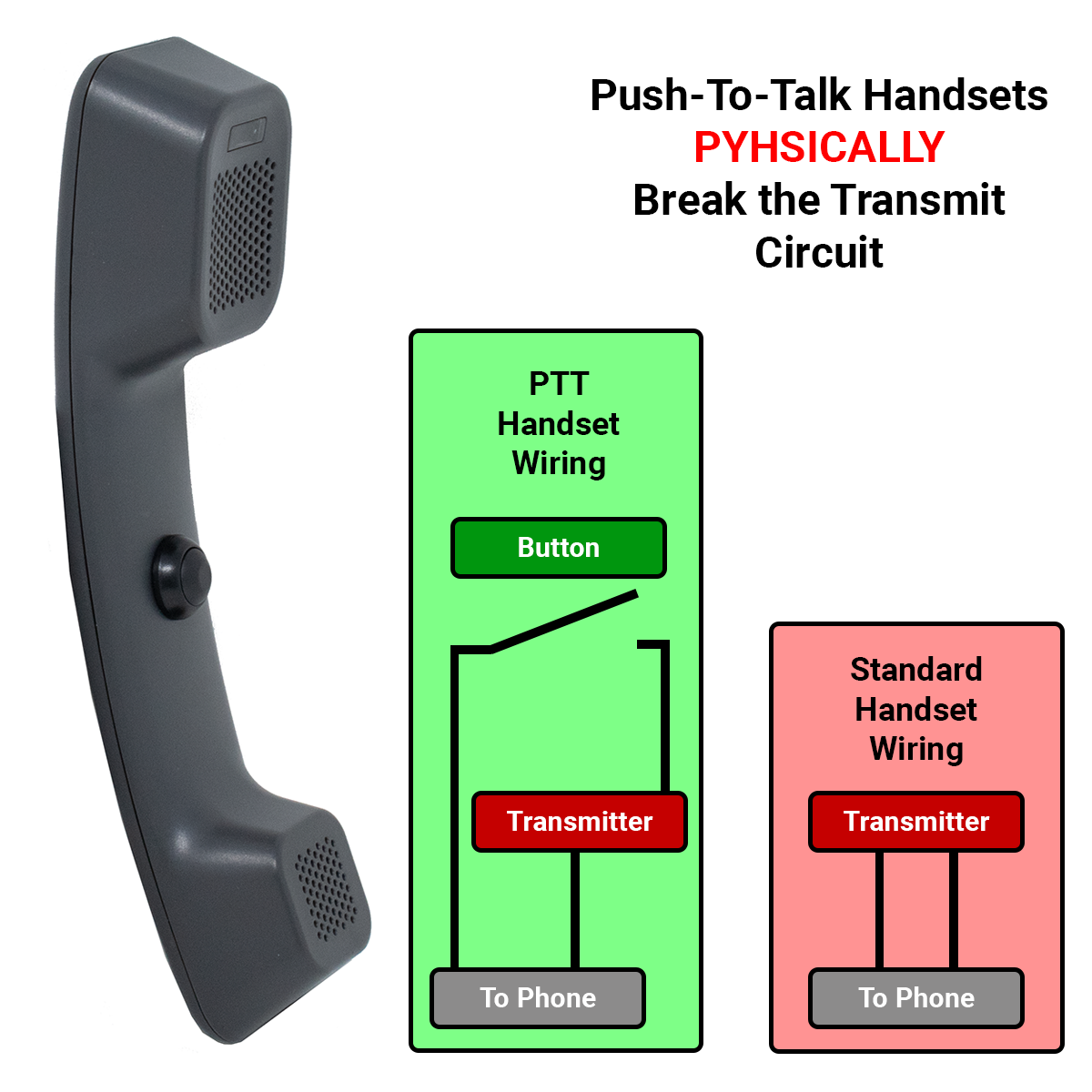 Push-To-Talk (PTT) Handsets Aren't Just for the Government
Beyond national security, many other industries follow similar security guidelines to protect their trade secrets and sensitive client information:
Medical Offices
Trading Firms
Legal Offices
Banks
Corporate Board Rooms & Executive Offices
We Make Push-To-Talk Handsets for Hundreds of Phone Models
Contact Us to see if we can make yours!
We manufacture Specialty Handsets right in our shop in the Chicago suburbs, U.S.A.
We stock handsets for over 1,500 phone models including handsets compatible with Cisco, Polycom, Avaya VoIP phones. If we don't stock the handset shells for your phone, we can usually modify the existing handsets to be Push-To-Talk for most phones!
Push-To-Talk Handsets can also be used to improve communications in extremely noisy environments. Disabling the transmit circuit removes the background noise from the sidetone making the other party easier to hear. If background noise is your problem, our noise-cancelling handsets are extremely effective, and don't require the user to learn a new way to use the phone.