Emergency Alerting - It's Got to Be Tested!
Next month Microsoft stops supporting XP (on April 8th) and a lot of us won't be upgrading to Windows 7 or 8.
I t's likely that your older XP PC can't run Windows 7 or 8, mainly because there are no drivers available for older hardware.
One of the other problems we'll encounter if we decide to continue to run XP (besides no more updates to the operating system) is that Microsoft is also going to stop updates for their own free XP Antivirus - called Microsoft Security Essentials in April of 2015 (it will still update for Windows 7 and 8).
You won't be able to download Security Essentials after 4/8/2014, but they'll keep updating the virus list until around 4/2015 if you have an XP machine that already has it installed.

---
UPDATE (4/25/14):
Microsoft is continuing to update MSE for XP, but they've changed the icon so it's always red if you take the final XP operating system update:


Not a great idea in my opinion. What color are they going to make it when they really do stop updating it?
---

If you have to reinstall XP they will also keep all the Windows Updates running (for a year?), so that if you install XP SP2 from a DVD you can use Windows Update to get to SP3 and all the separate updates after that, that were available through 4/8/14.
You will still be required and be able to activate a new (un-activated) XP if you install it on a new PC, and you'll be required to run the Genuine Advantage program to verify that it's a legal copy. Probably for a year?
You should probably get a new anti-virus solution for your XP PCs now if you are using Microsoft Security Essentials. Note that any brand of anti-virus won't stop all malware. Bad guys will find problems in XP and attack through web pages, email and instant messaging... forever.
The vulnerabilities in XP will never be patched by Microsoft (like they've been up to now), but the anti-virus companies will eventually protect us from most threats after they discover them? There always has to be the unlucky first guys to get a new virus.
If you plan to use an XP computer to browse the Internet after 4/14 you'll have to be more careful than ever about what you click on. If you like to follow links on social sites you're better off using Windows 7 or 8, since they will be less susceptible to malware.
If the computer is never connected to the Internet (no browsing or email) it is safe to use it until it dies. That might include Call Accounting or Voice Mail systems?
If you're thinking about going to Windows 7 or 8 make sure the programs you use will run on them before switching! Not all programs will run on 7 or 8, and some will only work on the 32 bit or 64 bit version (there are two versions, 32 and 64 bit, of Windows 7 and 8).
I personally haven't tried Windows 8, but nobody I've talked to that has used it in a business environment has said anything good about it.
Everybody I've talked to likes Windows 7. They stopped selling retail versions of W7 last October but it's still available on the Internet as of this writing (usually for big bucks since everyone wants it!).
If you aren't going to upgrade XP and the PC is going to be connected to the Internet my recommendation for anti-virus is the free version of Avast. It's not perfect, but it doesn't take a lot of resources from the machine and works OK most of the time. All anti-virus programs make mistakes that incorrectly block stuff from time to time.
I would suggest getting only the free version of Avast. and NOT clicking on the free trial which will make you buy it in 30 days. If you look around the Internet you'll find that the only company Avast sells their software through in the US is Digital River, which has so many complaints that I wonder how they stay in business?
Avast is a foreign company and they may not care about US sales?
It's hard to click on the correct download when you go to the Avast site. Just keep clicking to get the free version (not the trial) no matter what:
http://www.avast.com/en-us/download-software
Avast is pretty aggressive at limiting what you can open without a warning when you first install it, but you can go into the settings and turn a lot of the aggressive stuff off. Just don't get fooled into "upgrading" from the free version while doing it.
On the latest versions of the free Avast they've begun popping up a little box every once in a while with sales junk. I guess it's worth it for their free version. If they ever stop using Digital River I'd buy it in a second!
Keep in mind that if you do decide to buy Avast you should probably buy the least expensive paid version. The more features you have (like a firewall, which is included with Windows anyway) the more it will slow down your computer. Any anti-virus slows down your computer to some extent - some brands a lot more than others.
"It sure would be nice if Microsoft Charged to Keep Updating XP!"
I emailed Steve Ballmer before he retired to suggest that he start charging a yearly fee to keep each copy of XP updated, but I doubt they'll do that. I'd pay $25 or more a year to prevent the pain of upgrading a perfectly good machine that will probably run for many more years as it is.

Emergency Alerting - It's Got to Be Tested!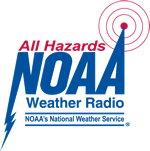 The spring severe weather season has already started so this is a good time to get testing procedures in place for all your emergency alerting devices that are unused 99.99% of the time. Which means they may not work when you need them if you don't test them on a regular basis.
A lot of companies have 911 phones, pool phones, elevator phones, fire alarms, hazmat alarms, E911 setups which talk directly to a 911 center, features that let the company operator know which station dialed 911, tornado alerts in a plant or campus, emergency sirens on the paging system of one kind or another, NOAA weather radios to set off announcements, etc.
For monitoring severe weather and some other types of emergencies this radio seems to be the most programmable Weather Alert Radio (which reduces alerts for non-emergency stuff), and has an "External Alert" 3.5mm Jack to activate a siren (it's a dry closure for low voltage / low current devices), from Amazon: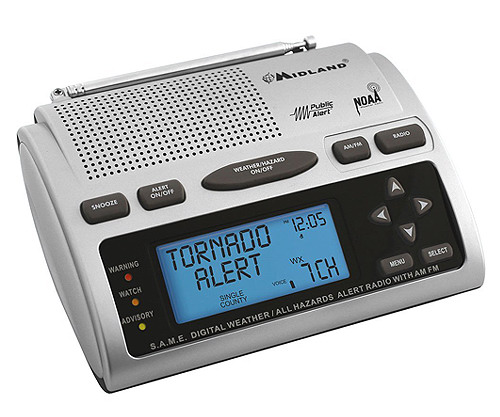 http://www.amazon.com/Midland-WR-300-MIDLAND-WR300-Weather/dp/B00009V2YV/
The weather service sends a test once a week from all NOAA weather radio transmitters that will trigger this receiver, and the paging equipment at a plant or factory if connected. Someone at the business should call for service if they don't hear the test!
This will alert with voice or a siren for five minutes, or until the reset button is pressed (there's a 3.5mm audio out jack). There's also an external antenna jack, which you might need in a metal building.
These radios are a bear to program with the correct counties and types of alerts (called S.A.M.E.). It has a 3.5mm "Cable Programming Port" but I have no idea what it does since it's not in the manual.
In a factory environment Tornado Warning (not Watch) for the local county may be the only alert you want to go off, besides the weekly test?
I'd figure a couple of hours to install and program one of these radios, and a couple more trips to get the programming right after it's installed.
I'd let the customer buy it and maybe a spare to have programmed the same way, and charge T&M to put it in (activate a siren or recorded announcement, or pipe the audio through the company PA system).
If you've installed emergency alerting equipment for your customers in the past, a reminder to test it is a good opportunity to make contact with them again to see if they need any other equipment from you!