DATA NOISE FILTERS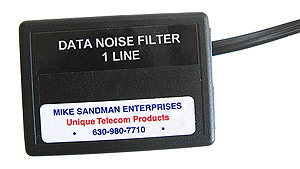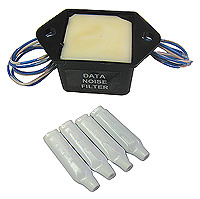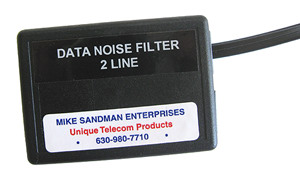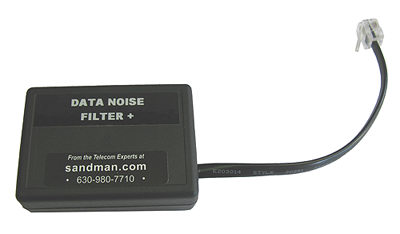 Boxes that provide fake phone lines often put out Data Noise in frequencies above voice frequencies.
We're talking about the fake phone lines you get from the cable company, the phone company who gave up on copper and is switching to fiber with a fake phone line, and some boxes from Internet providers who give you telephone service with Internet service.
You can't hear the Data Noise, but the real data from the CPU in the telephone or telephone equipment is sometimes clobbered by the Data Noise, so the phone equipment does strange stuff.
What strange stuff? It's going to be different on every piece of phone equipment. Maybe nothing, maybe stuff you've never seen go wrong before. There's no way to know.
We now have two versions of the Data Noise Filter... the Regular and + versions. Which one do you need? I don't know! They use slightly different technology, and the Data Noise Filter+ blocks out lower frequencies of data noise.

You need to carry them both!
There's no way to know which one will work until you try.
This isn't an exact science since all of the makes and models
of the boxes that provide fake phone lines work differently.


How do you know if Data Noise is causing your problem?
Hook up an oscilloscope across the tip and ring from the fake phone line box to look for the Data Noise and see the amplitude (how loud it is), which is very difficult to do in the field. But you still don't know if the Data Noise you see is actually causing the problem you're having?


Put one of our Data Noise Filters (the regular or PLUS model) in-series with the mod jack coming out of the fake phone line box.

If you are selling / installing telephone equipment and some of it is going to be connected to a box with fake phone lines, keep a couple of these with you all the time! It will save a ton of chasing your tail (and replacing the KSU, etc.). They're cheap and easy to try.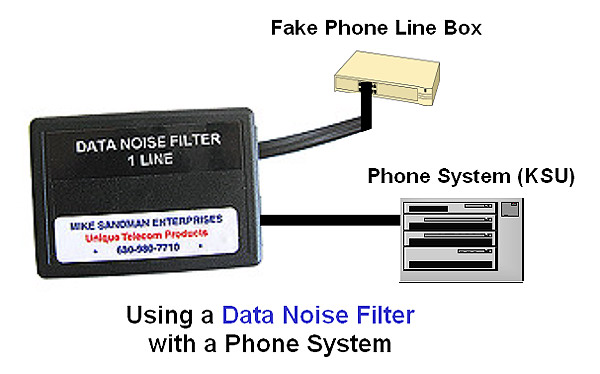 It's a real problem with KSU-less phones...
Multi-line KSU-less phones, like the ones you buy at the office supply or big box store, normally communicate with each other on Line 1 between phones. They send data at frequencies above the voice frequencies... often at the same frequencies as the Data Noise put out by the fake phone line boxes. The result? The phones can't communicate with each other and the lights, intercom and ringing often don't work or is intermittent on the phones.
The only way you'll know if Data Noise is your problem is to put one of our Data Noise Filters on the jack on the fake phone line box, not in-front of any phone: