Donald J (DJ) Trump Voice Modulator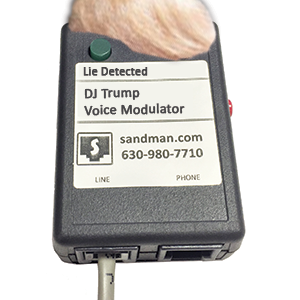 Donald J (DJ) Trump Voice Modulator
Take Control of your Next Negotiation With Your Secret
TRUMP Card!
Remodulates your voice so you sound exactly like Donald Trump
Changes your Outbound Caller ID to show "DONALD TRUMP"
Built-In Lie Detector LED
Negotiate your next deal with CONFIDENCE — Even if you have no idea what you're doing and no experience!
Sound just like the Don himself when you tell Employees "YOU'RE FIRED!"
Installs in seconds, pays for itself on your first successful negotiation!
With the DJ Trump Modulator take control of your next call. Just hook it up in-series between your phone line and your phone and when you're talking on the phone your voice will be remodulated so you sound just like Donald Trump.
If you're making an oubound call, your outbound caller ID will also read "DONALD TRUMP" so whoever you call will believe they're answering a call from Trump himself.
The possibilities are endless. Includes a "playbook" containing over 100 scripts that you can use for everything from negotiating buying a car, to firing employees, to hilarious pranks you can pull on your friends (if you have any). See below for a few samples from the playbook.
The built-in lie detector LED will light up green when the person talking is not telling the truth. If you're the one talking, don't worry about it, the people you're talking to won't be able to tell the difference.

Important Note: If the Lie Detector LED is ALWAYS ON when you're speaking, that is normal behavior, not a sign of a defective unit!
The life-like hair tuft on the top of the unit was sourced from the finest goat hair available. All goats are organically fed and are free-range goats. We found goat hair to be the most realistic replica available. If you need even more confidence while you're on the phone, simply stroke the tuft gently to remind yourself to stay in control!
New Feature: Use the red push button on the side of the unit to switch to Hillary Clinton Modulator Mode! Convert to a Bernie Sanders modulator for only an extra $49.95!

World's Best Cell Phone Pouches
Sample Scripts from the Included Playbook:


Buying a Car
Other Party: Hello, this is XYZ Dealership, can I help you?
You: Listen, I'm Donald Trump, and you better sell that '87 Cutlass Supreme to [insert your name here] for half the price you were asking, or I'm going to have your city build a 20 foot high wall around your dealership and levy a special tax against you to make you pay for it!
**HANG UP**
Firing an Employee
Other Party: Hello!
You: YOU'RE FIRED!
**HANG UP**
Inbound Call from Megyn Kelly
**IGNORE CALL AND CHANGE YOUR PHONE NUMBER FAST**
Making Dinner Reservations
Other Party: Hello, this is XYZ Restaurant, can I help you?
You: Yeah, it's Donald Trump, I might meet some friends over there for dinner tonight, so clear the place and bill me directly for whatever they need for the night.
**HANG UP**
Currently Sold Out! Due to the extremely high demand for this product we've sold out of our first run of the units. Follow us on Facebook for updates and we'll let you know when we have another batch in stock!
*Editor's Note:
This is a fictional product developed to make you laugh and for publicity. We mock both candidates equally, be sure to also check out (and share) our
Clinton Routing Internet Magic Eraser (C.R.I.M.E) unit
.
It's sad that this disclaimer is necessary, but some viewers were unable to discern this for themselves. If you were not able to determine that this product is fake, or are offended by this material, please don't call us to place an order as you probably are not intelligent enough to figure out how to use our products anyhow.
Sincerely,
sandman.com